When deciding to buy a home, we must decide on these two available options: one is to buy a pre-constructed home; and the other is to have your home built according to your preferences. Between these two, if the latter sounds more appealing to you, then this article is a must-read.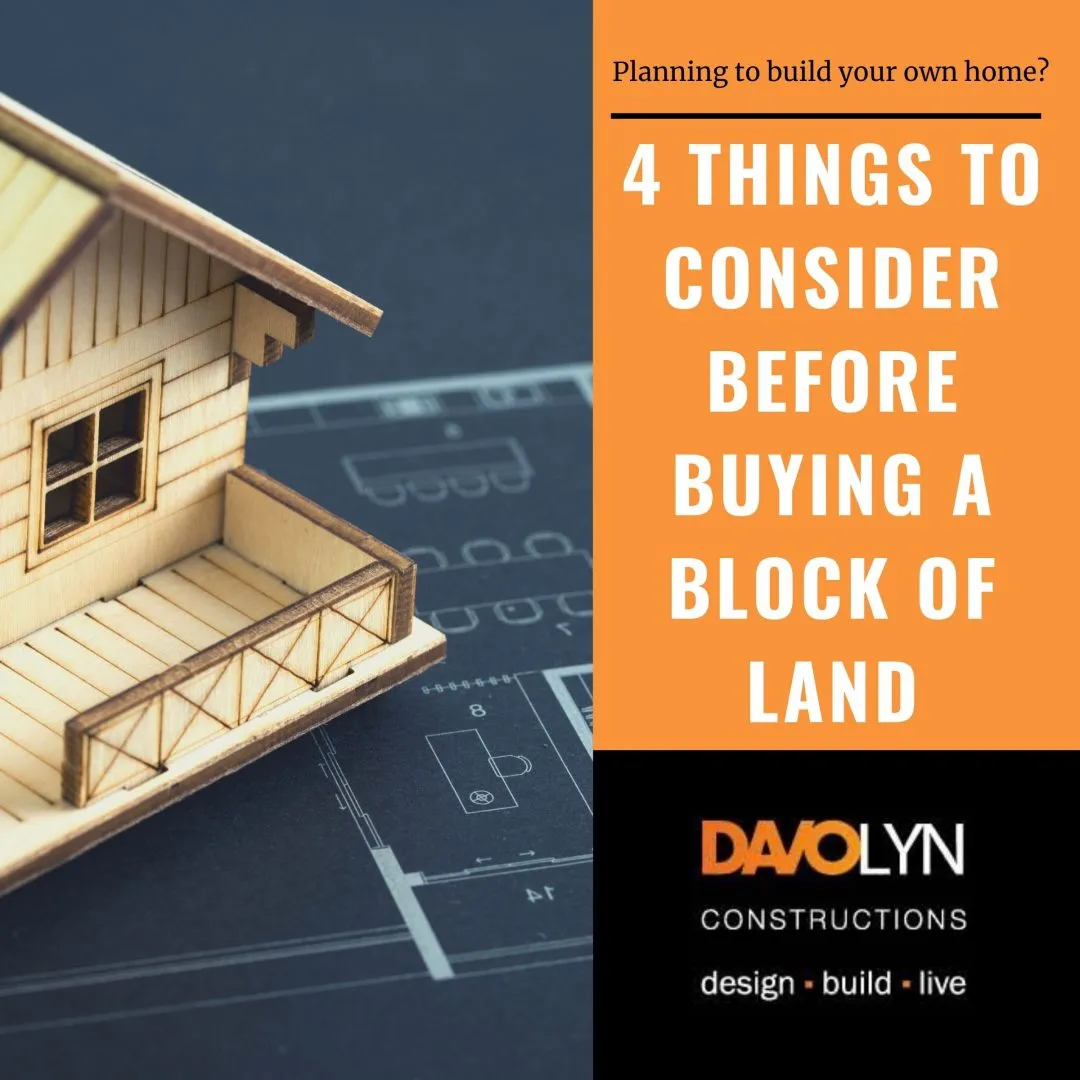 Building your dream home is an amazing experience for both first homeowners and those that have had their homes built before. Doing so will provide you with lots of freedom when it comes to the preferred floor plan layout, directions of doors and windows, and materials to be used. Although this can require a lot of effort on your part, the end result is very rewarding.
Here at Davolyn Constructions, we are happy to help you achieve your dream home. So in this article, we will discuss the first milestone when constructing your own home– finding a block of land.
#1 Conducting a Research
A house is among the most expensive investments one can make. Thus, doing the research before deciding to buy a block of land is important. It will help you come up with informed decisions and add personal touches to your dream house.
There are many things you should know about before buying a block of land. Most of them, you will not be certain of unless you find the answers yourself. One of them is the accessibility of important places like the schools, transport, and shopping centres. It is also important when it comes to acreage, you must ensure that the services like water and electricity are available at the property.
The next thing you need to research is the living conditions you'll be exposed to when you move to the area. Is the neighbourhood noisy? Will you be disturbed by a highway? How's the crime rate in the area? Will there be a threat to your security? Is the area prone to bushfires? These questions can be answered by asking around or driving within the area.
#2 Council Restrictions
Some areas in Plainland have certain policies and regulations that might compromise your house construction. Noise regulation, and even home design restrictions based on development covenants are among the policies that may affect your construction project. They can also affect your living conditions in the long run. Therefore, you have to study the council restrictions before buying a block of land.
#3 Block Dimensions and Slope
Another important thing to consider before settling with a block of land is the dimensions you'll need and the slope of the block. These two factors affect house construction in more ways than one. It is not to mention that accidentally buying a block of land with an unfavourable slope can cost you a fortune.
Getting the right block of land dimension and the slope is difficult. It is also possible to get tricked by real estate agents into buying a bad block of land. To ensure that you'll get the right dimensions and a good slope, it is wise to consult an experienced builder.
#4 Orientation and Position of the block of land
To get the best out of your investment, you have to find a block of land with good orientation. Finding the "good spot" to place your dream house on can help with the house layout. For instance, you might want to look at the amount of sunlight the block of land is exposed to. Knowing the wind direction will also help when deciding on doors and windows' positions. Most smart and sustainable homes in Australia utilised the block of land's location for natural light and ventilation.
Conclusion
We understand how you want your home to be perfect. Thus, we want to help you every step of the way until you make that dream house a reality. Should you find the tips above helpful but you can't do them on your own? Davolyn Constructions is here to help. Send us a message today and let us help you find the best block of land!